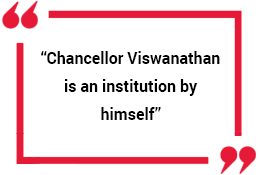 Dr. G. Viswanathan (GV) Dr. Viswanathan
Dr. GV, the founder-chancellor of VIT University, India, was born on December 8, 1938 in a remote village in the south Indian state of Tamil Nadu. Dr. Viswanathan's journey has influenced generations of people who came across him at every stage of his life.
Dr. Viswanathan – the Student
Dr. GV completed the Advanced Management Program at Harvard Business School as late as 2003. This is a pointer to his urge to be an eternal student and learn. He excelled in academics right through childhood and went on to obtain Masters Degree in Economics from the prestigious Loyola College, and completed Law from Madras University. His leadership skills were instantly noticed and his party chose him to contest the elections in 1967. He entered the Indian parliament carrying the hopes and aspirations of around 500,000 people of his constituency.
Dr. Viswanathan – the leader of the people
A student leader in his twenties entering Indian parliament was something unthinkable, especially in 1960s. He championed people's issues in the parliament and they, in turn, reposed faith in the leader who fulfilled their expectations. They re-elected him by a bigger margin in the next election for another five-year term. He travelled to different parts of the world as a member of parliamentary delegations and appreciated issues in a global perspective. Dr. GV wanted to play a bigger role in the provincial politics so that he can make a direct contribution in improving the lives of the people in the region. He was elected to Tamil Nadu Legislative Assembly for ten years. During this period, he served as a Minister for two years.
Dr. Viswanathan – the educator
He established Vellore Engineering College in 1984 at Vellore. He envisaged that his institution would offer world class education to students who would be influencing the industry in future. The engineering college that started with an intake of 180 students in 1984 has grown as a university of over 18,000 students in 53 undergraduate and graduate programs with nearly 10,000 students residing on the campus. It has attracted students from Europe for internships and professors across the continents for delivering lectures. It houses more than 1000 international students on the campus. For the past two years, VIT University was ranked #1 private engineering institution in India. ISO Certification from Holland, accreditation from United Kingdom and the highest accreditation grade from the Government of India reflect the University's standing as a premier institution on the global front.
Dr. Viswanathan – the institution
Dr. GV helped women and unemployed youth in the region and trained them on vocational aspects and encouraged them to be self-reliant. His initiatives have helped their standard of living. Dr. GV offers scholarships to students from disadvantaged sections of the society to pursue higher studies. He has adopted number of villages in an effort to improve the quality of their lives. He has embarked upon making Vellore – a city of around 500,000 population – greener and cooler by planting one million saplings. His vision reaches beyond the defined horizons.