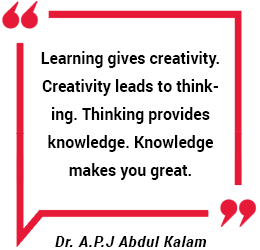 Dr. G. Vishwanathan
With the world changing fast through rapid globalization, the challenging environment, enhanced expectations and difficulties in coordination amongst the government, operators, beneficiaries and acceptors, have not kept pace with the huge demands at the national and international levels.
History of the Indian education showcases that during the Vedic and Upanishadic period, the universities of Takshila and Nalanda were acknowledged as institutions for higher education, which attracted scholars from different parts of the world to India in pursuit of knowledge. However, the current scenario today is vastly different.
With despair, Indian education system finds itself stretched in its endeavour to provide truly universalized, relevant and employment driven academic education and learning for its even burgeoning population. Currently, only 6 to 7 percent students progress beyond primary to secondary education.
Students pursuing higher education are a meager 1 percent and of that 1 percent many are flocking to foreign universities which leads to an outflow of Rs. 45,000 or more Crores out of India and additionally leads to the phenomena of 'brain-drain' in the country.
The subject of education is of great importance today. In the rising 21st century, quality education is a matter of criticality and along with it many related issues such as policies, governance, affiliations and others are rising. With each passing day these issues are gaining importance and if, they are resolved in time and effectively they can influence the overall environment of the Indian education system.
The issues pertaining to Indian education further generate questions in our minds. How prepared are we to dovetail challenges into our nation building process? Can we overcome the hurdles in time and ensure that they are not a hindrance to our development? Can we deliver what is desired?
The questions mentioned above demand for our attention and it is imperative that we focus our energy to find the required solutions for the short, medium and long term concerns. It is time for all of us to critically evaluate our current issues and the challenges arising as our education sector is now open to the foreign players post the WTO regulation.
Considering the current scenario institutions in the education sector have joined hands to create an autonomous nodal agency which will represent the education sector and act as an apex body. The agency is EPSI Education Promotion Society of India. EPSI will act as an interface for the education sector before the government bodies and industries, as there was no institution or agency which can represent the education sector and act as a facilitator.
EPSI will take forward the research and development in the areas of engineering, design, medical consultation, legal services, human resource development and so on. It will be the endeavor of EPSI to raise the bar of quality education in India and suggest the changes in the areas of academics to improve the employability scenario. Most importantly, EPSI will take up the challenges faced by the education industry in front of the government bodies.